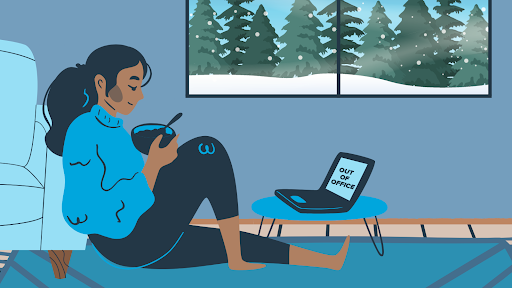 I don't know about y'all, but I'm still full from all the turkey, mashed potatoes, and pumpkin pie. Thanksgiving is one of my favorite holidays. Spending time with family and friends is one of the best ways to recharge. But the family (and friends) time ain't over yet!

And you know what's coming next!

It's the most wonderful time of the year! Whether you celebrate Christmas, Hanukkah, Kwanzaa, Yule, or a combination of them all, it's the holiday season. There are so many holidays in December that it can be hard to coordinate time off for you and your team to enjoy the season.
How to prepare for the holiday season
The biggest piece of advice we can give you for the holiday season is to plan and work ahead. I know, that's a big ask. It's hard enough to plan what you want to eat for dinner tonight, let alone what work you need to get squared away before the holidays.

But when the time comes, and you can take off time knowing that you set yourself up for success, you can focus on your family and yourself instead of worrying about work. After all, not everyone takes PTO at the same time. If you make your list and check it twice before you leave for a week or more, your colleagues will thank you.


Assess the needs of your team, and create a to-do list
Set realistic expectations
Delegate important tasks equally across the team
Submit your PTO and mark it on your calendar so your team members can see when you are and are not available!
Schedule a meeting for when you return (you'll want to get your bearings before diving head first in the new year)
Recognize your team's accomplishments
Make sure your team knows how much you value them. The end of the year is a great time to reflect on everything your team has accomplished, and recognize them for their contributions. Don't forget, they're not just your employees. They're people too! So give them, and yourself, some grace. The holidays are stressful for many people, and it's okay if things aren't 100% perfect.

Remind your team of any Employee Assistance program benefits your company might offer. Coordinating travel, gifts, and kids on top of work is hard, and some people might need resources to help manage their stress. Taking care of yourself is critical to maintaining your health and working relationships.
Teamwork makes the dream work
The most important thing you can do to prepare for the holiday season is to figure out what you need, as an individual, and what your team needs, as individuals. When you understand yourself and how you work best, it's easier to advocate for yourself and your needs. Inversely, understanding how your colleagues work best makes it easier for you to meet their needs and work better as a cohesive team.
Empty space, drag to resize