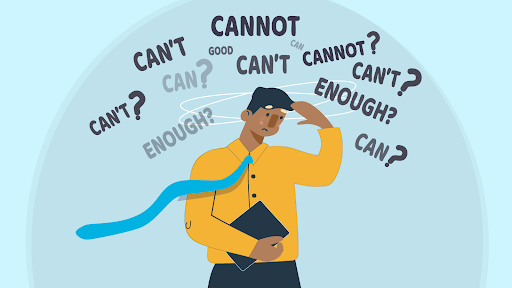 Do you ever get that feeling that you're supremely unqualified for the position you have? That all of your achievements were accomplished through sheer luck, and someday you'll be found out to be the fraud you just know you are?
Maybe you just doubt yourself a little too often, and fear taking on big projects alone?
Whether mild or severe, psychologists call this phenomenon "Impostor Syndrome," and research shows that high-achieving people are disproportionately affected by this overwhelming sense of fraud.
1
This fear can lead to anxiety, and even depression, in those who unnecessarily doubt their abilities. These negative emotions often fuel future successes for perfectionists who learn to rely on their anxiety to create powerful work. But the problem with this habit is that it is not sustainable, and leads to burnout.
Have you ever been recognized for your work? Commended by a group of your peers? Chances are, you didn't make it this far without being really good at what you do. And honestly, you're probably not good enough at fooling people to manipulate and trick your way to the top. The truth is, there are more of us than we realize who suffer from impostor syndrome. Even the word "impostor" itself is stuck in the mess since no one can seem to agree whether it's "imposter" with an "e" or "impostor" with an "o." (Original spellings say "o," but "e" has been around so long that it's basically usurped its vowel sibling.)
Part of the feeling is the notion that you will be found out, so most don't talk about it. But I would bet even the most confident people you know suffer from these feelings from time to time, and maybe if we talked about it more we could ease our anxious feelings and collaborate more effectively. In recognizing our strengths and weaknesses, we are able to complement each other to create things we never thought possible.
Here are some quick tips we use at Spark! to conquer impostor syndrome:
Talk to a trusted friend/mentor. They will honestly assess your abilities, and put your mind at ease.
Be honest with yourself about what you're good at, and what you're not so good at.
Doubt your doubts. When you have feelings of doubting yourself, keep yourself two steps ahead and look for evidence to contradict yourself.
Resist the temptation to compare yourself to others. Everyone has their own personal story, and we are all moving at our own pace.
Use positive affirmations to remind yourself that you belong, and your skills have gotten you to where you are now.
1 Weir, K. (n.d.). Feel like a fraud? American Psychological Association. Retrieved June 9, 2022, from https://www.apa.org/gradpsych/2013/11/fraud