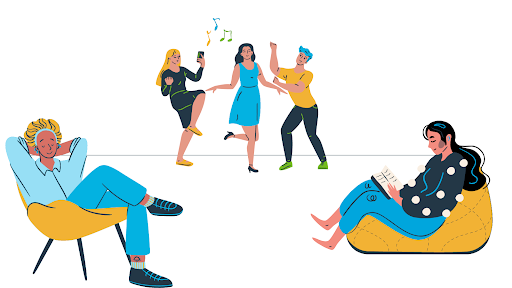 Inflation. Political division. Family drama. Anxiety. With so much going on in the world today, and so much to observe, it's no wonder so many are struggling with their mental health. But what's the root cause at the source of it all, and what opportunities do we have to take care of ourselves?


At Spark!, we call this FADSS energy, and, you guessed it, it usually comes from social fads both on and offline. Fear, anger, disgust, sadness, and schadenfreude: these are the emotions which, left unchecked, can lead us to some pretty dark places. (For further reading:
For further reading, check out our FADSS blog
)
Basically, if you spend all your time digging a hole with unstable FADSS energy, the walls will crumble, it can and will consume you! So how do we make sure that doesn't happen?
How do you recharge?
Everyone's brain works differently, and everyone finds joy in different things. Some enjoy solitary hobbies, while others spend time with family or friends to recharge their batteries. Whatever method works best for you, taking care of yourself is important to maintain your mental health.

Here are a few options we love to help you take care of yourself:
Resist the urge to compare yourself to others.
Take an internet/news detox break.
Share your feelings with loved ones, they can support you.

If not your loved ones, talk therapy is a great option and your employer might have an employee assistance program (EAP) available for you to access.

Make sure you're getting 8 hours of sleep at night.
Spend time outside in nature.
Practice mindfulness. (For further reading, check out our 7 Tips to Practice Mindfulness blog )

Meditation also goes hand-in-hand with mindfulness.

Make some art. If you're "not good at art" try an adult coloring book.
Get some exercise. Endorphins are great for your mental health.

Some, none, or all of these strategies might work to help you recharge when you need a break, but what's most important is understanding yourself and what works for you. With Human-Centered YOUnity™, working to understand ourselves and our own unique stories, we equip ourselves with the tools to understand others, and collaborate to create a better world. Or at least one with less FADSS energy.
Empty space, drag to resize