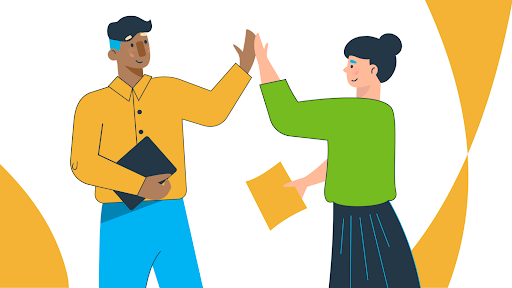 With the rise of remote work, many cite virtual communications for a decrease in workplace camaraderie and collaboration1. For many businesses, remote work doesn't seem to be going anywhere for the foreseeable future—it may even be a boon to your company's workflow.

So how do we adapt to the changing landscape of workplace culture while retaining the traditions that brought teams together and build unity in our organizations?
The power of personal story
Every individual has a unique story. No two people's experiences are truly the same. Understanding this fundamental truth provides each of us with the power to embrace and recognize the individuality of those who make up our teams, and work to collaborate more effectively.


The key to embracing the power of personal story (and getting personal with your team) is to make space and to listen.

Rather than proceeding directly to agenda items and tasks, check in with your team, ask them how they're doing. Not the type of "how are you?" that you ask at the grocery store, but really, how are they doing? Obviously, there's a line here. If someone is uncomfortable divulging personal details of their life, there's no need to press the issue.

Create space to celebrate professional milestones. Is there a work anniversary the whole team could celebrate? Was the company or was an individual recognized for their contribution(s)?

Making space and listening might not happen overnight. Also, you might find that some employees are not comfortable sharing different aspects of their professional and personal life. Authentic connection is hard work, I know, but hard work pays off.
How important is connection?
You might be wondering, amongst all my priorities, how should I prioritize this additional item? Well, you might want to make personal connection a pretty high priority.

In a study titled "How Millennials Want to Work and Live,"2 Gallup identifies six key themes in their research. One that sticks out to us here at Spark!, is that "millennials don't want bosses, they want coaches."


The study shares,
Only 29% of millennials strongly agree that they feel comfortable discussing life outside of work with their manager.
62% of millennials who feel that they can talk with their manager about non-work-related issues plan to be with their current organization one year from now.

One of Gallup's primary recommendations is to, "talk to your employees about their lives and pay attention to them when they reach out."

It appears that when you show a genuine interest in the lives of your employees (at the office and outside the office), and build trust over time, then your team can become more engaged with their work, and your business can flourish.

At Spark!, we call that a win-win-win!
Empty space, drag to resize