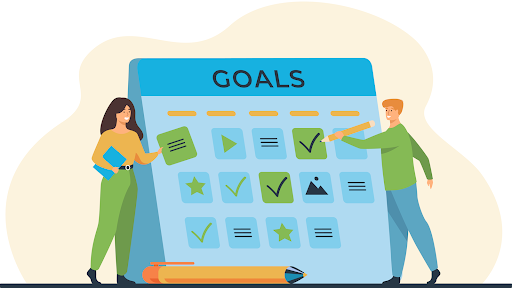 New year, new me! Every new year is a chance for a clean slate, a fresh start, a new lease on life. It's a time for slowing down, taking stock, and setting yearly goals. The new year can also mean that it is time to start thinking about annual performance reviews.

Traditionally, annual performance reviews are a way to reflect on the past year. What went well? What opportunities for improvement exist?
Whether reviewing or being reviewed, it can sometimes be awkward. A McKinsey & Company
study
indicated more than half of employees think their current performance-management systems have "
not
had a positive impact on employee or organizational performance." That means there is room for improvement for sure.

What can you do, as a leader, to buck the trend and create an impactful annual performance review process?
What really is a performance review anyway?
At Spark!, we like to think of annual performance reviews as employee coaching. In our organization, coaching means that we take time to get to know each other and each other's strengths. We also work to provide continuous feedback to support timely improvement and address challenges. Imagine the coach of any sports team. What would happen if the coach only addressed the team once a year – during the annual performance review? Most likely, the team or the individual may not perform well. A consistent flow of communication and feedback between individuals can strengthen teams and organizations.
What do some of your potential employees have to say about performance reviews?
Millennials currently make up the largest portion of the workforce in the US and when Gallup released their report
How Millennials Want to Work and Live
, they reported two key findings that we want to focus on today. First, "millennials don't want bosses—they want coaches." Second, "millennials don't want annual reviews—they want ongoing conversations."

These findings could inform how your organization approaches annual performance reviews. For instance, when an employee isn't performing up to standards or needs to adjust their workflow, it would make sense they would want to know as soon as possible. Ongoing conversations and providing feedback early and often could resolve problems sooner.
What do we do at Spark!?
At Spark!, we approach performance reviews like a coach. We work to have ongoing conversations early and often. This includes supervisors engaging in weekly 1-on-1 meetings with their team members where they discuss previously completed work, upcoming projects, and what strategies are working the best.
This year, we started doing quarterly reviews, too. We look back on all the work we've done over the past 3 months, analyze what worked, what didn't work, and what could've been done differently. Then we set both professional and personal goals for the coming quarter.


This allows us to set both short- and long-term goals to improve our workplace performance and our overall wellbeing.


One of our favorite new traditions is celebrating employee anniversaries, what we are calling "Spark-iverseries." Just as a coach might give a kudos or shout out after a big game, this new tradition brings the Spark! Team together to share what we appreciate in our team members.
Empty space, drag to resize